 Listen here, I keep seeing tweets along the lines of: 'Once someone reaches 10K followers they never interact. Calm down, you're not Beyonce'. At first I laughed, because nobody likes a social media snob.
BUT THEN I realised how terribly slanderous this was against Queen B.
If anything, we should all aspire to be the 'Beyonce of blogging' and here's why.
Sit down, be humble
This was the first thing that made me question the tweet. Beyonce certainly doesn't ignore people. She's selective with the people she spends time with, but only because she's a busy woman.
Engagement comes down to quality not quantity when you reach a certain level of exposure. You'll rarely see B tweeting her fans or signing autographs in the street, but you'll hear amazing stories of her working with the Make-A-Wish foundation and giving select fans an experience to remember.
Humility is often lost online. Never forget where you came from and try to remember to give back to your audience. Whilst the incoming notifications can be overwhelming, it's important to recognise that your audience is the reason you're able to succeed online.
Lose with grace
Imma let you finish reading this blog post, but Beyonce had the greatest video of all time.
Ok, so bloggers don't have Kanye fighting their corner when the Blogger's Blog Awards roll around, but that doesn't stop some of us taking a nomination snub to heart. I personally love award season, but I often see so many bloggers get the hump because they haven't been shortlisted.
If you've caught yourself saying something along the lines of 'it's not a real awards ceremony anyway', I think you need to take a moment and ask yourself why you're getting all mixed in your feelings to begin with.
Someone else's success does not diminish your own. You can be perfectly comfortable celebrating another blogger without comparing.
Learn to say no
When I used to work in influencer marketing, I was always amazed at what you could get someone to do for the right price. Now, that sounds a little rude but please stay with me for this point.
It's a bit cringe when you see Love Island contestants saying yes to everything, isn't it? Slimming teas, Poundland appearances and dodgy club nights in Preston – it's all a bit inauthentic. Despite how quick we are to judge reality stars, when the money is on the table for bloggers it can be hard to say no.
Whilst I understand bills need to be paid, I truly wish bloggers knew their worth a little more.
Is it worth risking your spam score over a dodgy bingo link? Are your followers going to be confused when suddenly your fashion posts are interrupted by a random cat food review? Beyonce's power lies in her ability to turn down deals that don't match her own ethos. Can you say you'd do the same?
Go hard or go home
Have you ever watched the Life Is But a Dream documentary? It shows that Beyonce is one of (if not THE) hardest working musicians in the industry. Wouldn't it be amazing to have that similar status in the blogging world?
One thing I love about social media at the moment is how many people I see shouting out bloggers for really upping their game. The hard work really is worth it when you see this happening. Your efforts won't go unnoticed if you take a few extra days to write up a post or edit photos.
Beyonce is a well-known perfectionist. How different would your blog be if you only posted the articles you knew for sure were your best work?
I've been struggling with this myself lately because I want to review products, but also share in-depth personal post at the same time. It's a juxtaposition. Short reviews next to (hopefully) thought-provoking content looks a little bizarre. I guess it's all about finding a balance.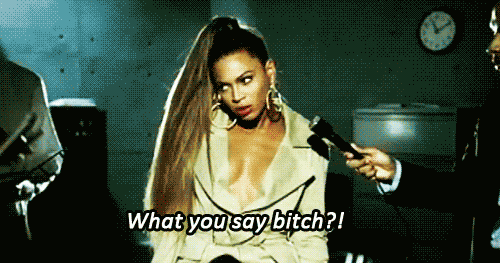 Pick your battles
When LIV came out saying she had an affair with Jay-Z back in 2014, Beyonce didn't instantly fire back publicly. It wasn't until 2016 that B told the Lemonade story, putting the focus on her own experience instead of making LIV the star of the show. She took her time and waited until responding would benefit her, rather than LIV.
We can all learn a thing or two by the way Beyonce handles drama. I've only ever had cross words with a fellow blogger once and honestly, whilst I stand by my point, there just wasn't any need for me to run my mouth. Sometimes things are better left unsaid.
Paying attention to the negative often fuels the fire. There's a reason you'll see the same people getting into fights on Twitter all the time and that's because negativity fuels further bad vibes. If you pander to the trolls and the click bait, you'll become a magnet for it.
There's nothing wrong with being opinionated, but before you sound off ask yourself what you're going to achieve by doing so. Silence is often the best response, like when Keri Hilson dissed Yonce. Remember that? Probably not because Beyonce didn't respond leaving the whole fisaco to lose hype and fade away.
__________________________
So perhaps Beyonce's success can't be weaponised for a subtweet and in fact, we should all be following Queen B's lead. Calm down guys, you're not Beyonce… yet!